Lifetime of Moratoriums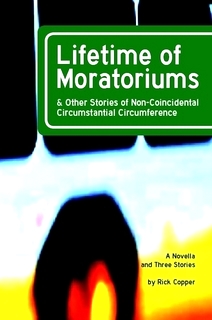 Lifetime of Moratoriums
SYNOPSIS: (read, love, buy for someone via Lulu hardcover, paperback or ebook)
This is a Novella (Lifetime of Moratoriums) with three short stories caboosing the novella (Camel, Cerebral Cortez and The Rain Fell). Now the synopsis for Lifetime of Moratoriums:
A series of bizarre crimes against senior citizens is occurring in the quiet village of Schaumburg. Stripped of all dignity and clothing, every victimized senior citizen has been placed in an embarrassingly compromising situation. Throughout these crimes, the village of Schaumburg's sheriff Todd "Chili" White has been half-pointing to one suspect: MrAld "emerald" Thausen. Not because he's been in severe trouble with the law before; not because he has had issues dealing with the elderly. Because he's different.
MrAld is a shuttle bus driver at the local mall. Prior to that before moving in with his mother for his and her convenience, he was the shuttle bus driver at O'Hare's remote parking lot. He lived with his mother until she died, making her house his home. He's incredibly organized and has his days down to a set schedule. He never goes anywhere but work, home and Nicky's (aka Icky's) a local diner. MrAld takes public transportation but does have an old Oldsmobile Silhouette minivan. He has a pet turtle, Mao. Stuck on improper medicine after his mother's death, he once walked Mao around town. Odd enough, odder still as MrAld was naked.
MrAld also has a part-time job working at Maxi's Meat Shoppe. MrAld runs the front counter. Never the slicer. Never the grinder. Maximillian likes to do his own cutting and grinding until he gets too busy during the summer. Maximillian hires a local deli worker and crop-dusting pilot, Dana, to help out. She is intrigued by MrAld and works on learning more about him.
Crimes spread throughout the summer including during the unfortunately economically combined Civil War Reenactment, World War I Model Aces Model Airplane dogfighting contest and Frisbeer Homecrafted Beer and Frisbee Golf Festival. Sheriff White appeases the village by continually questioning MrAld, but his gut doesn't think he did it.
While a psychic visits Sheriff White, Dana digs into MrAld's psyche further, finding him more and more interesting. She helps him learn how to cut meat so perhaps he can move up at Maxi's Meat Shoppe. They go out to dinner, Nicky's at first, but she expands his repertoire to include Mahatma's Pizza.
As Sheriff White runs into various walls, MrAld has been secretly busy trying to solve the case. He puts his anal-retentive organizational skills to work. Little clues from various victims start adding up. As things come to a head, one of the senior citizens inadvertently dies during their particular perpetration. It is obvious there was no intention of death, but after it has happened, Sheriff White has to solve it quickly.
Armed with newfound confidence as placed on him by Dana, MrAld comes to Sheriff White's rescue. MrAld arrives at the station along with his wall of detailed post-it notes he had been building in his closet at home. He goes over everything in intimate detail exonerating his own person and finding the guilty party.