Key's Daughter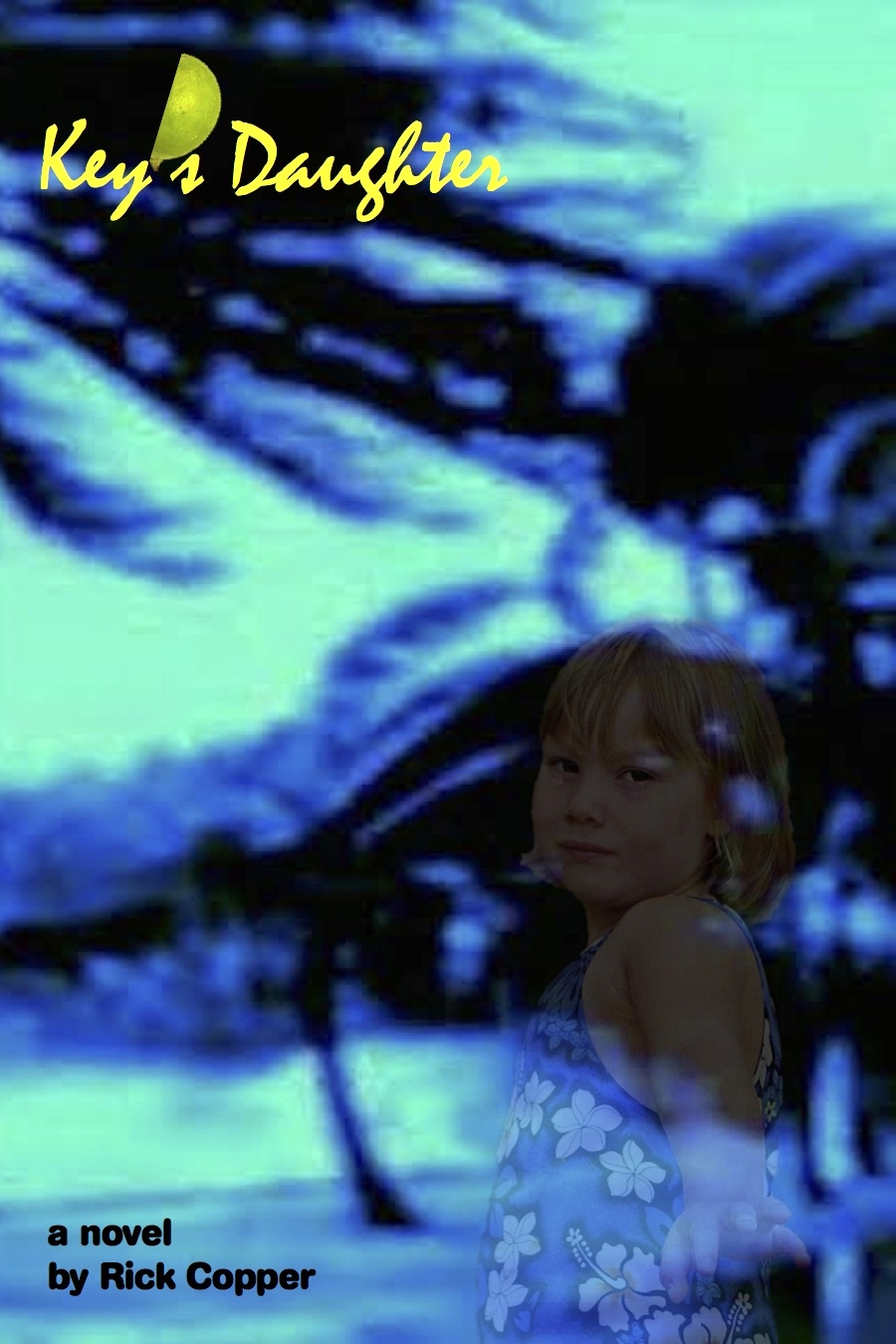 Key's Daughter
SYNOPSIS: (read, like?, find on Lulu soft or ebook)
Can you run far enough away to escape your past?
Reid Brantley should be settled at this time in his life. He has a nice house in Key West just off the Atlantic Ocean where tourists gather to take photos as they stand at America's southernmost point. Reid has a wonderful wife, Gretchen Malloy, who is an excellent mother to their child Meghan and his daughter from his first marriage, Gerty.
Story opens with him resting in his hammock purposely set between two Coconut Palms, relaxing after Gretchen has talked him into making a Key lime pie for a birthday party. As proprietor and part owner of Linner, a lunch-early dinner establishment in the center of Duval Street, he can handle creating a Key lime pie from scratch… and wouldn't have it any other way. Key limes, their little nubby ends, remind him of his ex-wife's nipples. Cherise, goddamn that woman. Her body was the only thing she had going for her.
As a chef, he is demanding and wants his kitchen his way with zero interference. Meghan comes and gets him off the hammock, but he's not going to be able to make a Key lime pie undeterred. He has guests – two FBI agents are in his kitchen.
Not too much of a surprise. He's taking some undesired time off as his and Gretchen's restaurant has been nearly totaled by a fire. The FBI agents, having arrived in a boat where the Atlantic makes a soft lagoon to the southeast on their property, have comments about the fire, but they have questions about the severed right hand found charred in fire's debris.
One agent, Mitch, is the talking one. The other, Jeff (whom Reid nicknames Harpo after Harpo Marx) spends more time concerned about searching both girls' stuffed animals and tea sets for microphones, as well as asking the occasional questions about Reid's steps in making the Key lime pie. Jeff really perturbs Reid, and sometimes chafes his partner Mitch.
As Mitch begins asking questions trying to get to how Reid ended up in Key West, why he chose Key West and what caused him to leave his home in St. Louis for Key West, Reid begins to make his pie.
This is no ordinary pie. First, Reid – after seeing Gretchen the Great Organizer has placed all of the ingredients out on the granite counter stacking them up like Chichen Itza – decides to 'cheesecake' it, using a springform cheesecake pan to effectively make a deep-dish Key lime pie. As such, he needs more graham crackers. He semi-jokes with the FBI agents about his normal method of using a rolling pin to make graham cracker crumbs today could get him shot, so he uses a blender. As Mitch asks questions, Reid interrupts him with the noise of his blender. Reid has to exert some sort of control in his own kitchen.
Story of Reid arriving in Key West soon takes shape, as does his graham cracker crust. At Mitch's request, he goes over how he first met Gretchen while he was down here alone on vacation to escape his wife and her overbearing family. As he molds his crust using butter and the graham cracker crumbs, he runs through his night of debauchery in Key West when he tried to 'find' himself.
Mitch is a patient agent, more so due to the lackluster performance of his partner Jeff, but wants to keep Reid moving along with the story. Reid, trying to retain control, pops in and out with facts about the history of the graham cracker and other minutia as he weaves in his story of ruining the soles of his feet while wandering streets on Key West, being saved by a crazy man named Bowling Bill and returning the next morning trying to find a place to stay. He begged Gretchen, and she acquiesced, allowing him to stay on her couch for a night if he plans on going back to St. Louis the next morning.
Crust goes into the oven for a quick setting, baking until it is set enough to allow pie filling to go in without wrecking the delicate nature of the crust. As it cools, Reid begins to gather ingredients up for the filling as well as makes two larger mounds, graham boobs, with the remaining graham cracker blend. These last in full view until Gretchen has him move them out of sight.
Reid went back to St. Louis, only to witness Cherise cheating on him, eating fudge-covered fruit off the naked torso of their housekeeper's 17 year-old daughter. He thinks it is erotic, his wife thinks his involvement is interference and puts him in the ER with a face full of broken glass and hot fudge. In short order, Reid explains not only was he married to Cherise, he worked for Cherise's father, owner of a chain of steakhouses in St. Louis called the Salacious Bull Group. Reid was the executive chef who has been forced to move into a desk job as the marketing manager.
Reid's father-in-law, William DeLongpre the Second, is a Type A bully who prefers to beat someone down to get results rather than lifting a person up. What he wanted was for Reid to stay in the uber-size house on the hills above the Mississippi River overlooking the Bowling Hall of Fame during and after the divorce. Cherise considers Reid, as well as their two year-old daughter Gerty, hindrances to her lifestyle. She keeps Gerty to annoy Reid and demands Reid leaves.
William DeLongpre bends to Cherise's will and more so. Not only does he boot Reid out of the house, he fires him. Through Cherise, he has already put all of their assets and money in Cherise's name years ago. Reid ends up broke, blackballed by his former father-in-law from getting any chef job from Chicago to St. Louis to Kansas City, living in a small apartment and working 3rd shift flipping pancakes at a Waffle House.
As Reid starts in on painstakingly slicing tiny Key limes in half, hand-juicing each one to get his desired amount of juice, Mitch questions why Gretchen would bother with Reid at all. Like Reid, she has a soft heart, but not soft enough to allow him to immediately move to Key West and live with her. As she informs Mitch, Reid is the kind of guy who prefers to take the easy road so much so he's perfectly content sitting on the side of a dirt road waiting for it to be paved before he bothers driving.
Eventually, Reid asks her if he can move to Key West. Gretchen informs him he's always been able to move to Key West, not her choice where he lives. It is her choice whether he is with her.
Mitch calls her a ball-buster. Both Reid and Gretchen inform Mitch there is something to be said for a woman who can keep control of her environs without losing control of her emotions. She is a psychologist who moved into being a bar owner after the death of her father. Perfectly at ease in her realm, she owes nothing to anyone, financially or emotionally. She enthralls Reid as much as she is curious about him.
Mitch calls in to question how Reid, broke and blackballed all the way down to the Keys, was able to start a restaurant. As Reid continues squeezing juice from limes, he goes on to tell Mitch about his struggle to get a decent job as a chef, bending once again to be a Waffle House employee. Squeezed for funds after trying all over to get financing, including asking for money from the nefarious Gutter Triplets (three Filipino brothers), Gretchen ends up partnering with Reid. As explained by Gretchen, she could have rescued Reid financially from the start, but she wanted to see him work at it. No use throwing good money after a bad investment.
Reid interrupts the questions by beating eight egg yolks in with a ¼ cup of lime zest. Enthralled, Jeff watches as Reid beats the eggs until nearly frothy, making sure zest is mixed in well. Reid explains to Jeff this is not a cake and therefore he really can't beat them too much, unlike other things that may be over-beaten.
Jeff watches Reid beat the egg yolk mixture. Once again, he informs Reid he'll need the egg whites for meringue. Reid, really frustrated with Jeff, informs "Harpo" – again – his Key lime pie is not from Denny's. No meringue. In spite of Gretchen's hammering on details and expense of the restaurant build-out (after buying out the t-shirt store next to Tiki Lounge), Reid is satisfied in spite of the uneasy mix of love and business, as he creates the uneasy mix of his egg yolk mixture.
His creations, simple tacos and a new dish he calls the "crepeome," a combination of an omelet and crepe easily folded like a taco, are doing okay. Tacos are an instant hit, crepeomes not so much. As Gretchen requests he add staff to shorten his working hours from absurd to abnormal (he does by adding the Old Man and a waitress named Kristy who Gretchen recommends), Gretchen keeps pushing him to move into what he really wants to do – pastry. Finally, he decides to create the dessert crepeome, a mini filled with a filling of fruit such as mango-orange marmalade and dusted with powdered sugar. The day he has his grand opening promotion, Cherise just "drops in" from 1,500 miles away. Not only does she drop in, she brings along their daughter Gerty… and her father.
Cherise wants nothing to do with being a parent and has drawn up papers to give full custody of Gerty to Reid. Good news for him causes problems with his relationship with Gretchen, much to the delight of his former father-in-law. Gretchen is five months pregnant with Reid's child and now has to deal with a little girl she never knew existed. Gretchen, as angry as she is with Reid, cannot turn her heart away from Gerty. Gerty, in turn, loves Gretchen's attentiveness she never got from her mother Cherise. She also adores being with her father as he works at Linner, and plays with his friend Bowling Bill.
La-dee-da. And everything was dandy. Mitch, provoking Reid with some smart-ass comments, informs Reid he has everything he's ever wanted now – Successful restaurant; his daughter; a new one on the way and a great girlfriend/business partner. So what happened? How did things slip away from him?
The pie seems to be ready for filling to be poured in, but Reid needs more Key limes prior to mixing limejuice with egg mixture and sweetened condensed milk. Gretchen isn't so sure, correctly guessing Reid is feeling a bit cramped in his own kitchen and needs to get some fresh air before he gets testy. Jeff follows Reid out. As Gretchen goes on about how she was able to get Old Man to join Linner as a part-time greeter, using his accordion skills as bait for curious tourists, Reid stays in one spot on the beach, waiting for soft Atlantic waves to come into their lagoon and slowly sink his feet into wet sand. Jeff, not one to exert control over anything, allows Reid to stand there, watches Reid recover a pie tin and one of his best whips from the beach as he grouses about the youngest daughter Meghan using his best tools. Reid nearly forgets about the additional Key limes. He picks up a few from under their two trees, tosses to Jeff, and returns to the kitchen.
Reid slowly adds in sweetened condensed milk to his mixture, explaining to Jeff why one uses sweetened condensed milk and what condensed milk is in the first place. Mitch gets impatient and wants to story to move along, asking when they got married. Mitch knows the answer, but wants confirmation. Pie, after Reid adds his special touch of dark chocolate mixture across the top of the piecrust, goes into the oven for 15 minutes of baking.
Gretchen goes in to a lot of detail Mitch would prefer not to know, but he asked. She tells Mitch Reid's completely romantic moron way to ask her hand. Reid asked Gretchen to play flight attendant to Reid's pilot. Once she started in on her monologue about airline safety and air bags, etc; Reid dropped to his knees, doffed his skycap and had her look at the bill. After she got upset over all of this play-acting to show her a damn bill, she caught on and found an engagement ring in the bill of his hat. She tells Mitch the wedding went off without any issues and reception was great. After the reception was a small problem.
Gretchen's father, Hank Malloy, had built a house many years ago along the southern edge of Key West, the house where they currently live. After her father's death, Gretchen had decided not to stay in the house and had moved into a small apartment. Now the apartment, with two adults and two little girls, was way too small. After getting married she realized she needed to keep her promise to her father and open an envelope he had given her right before he died. She had promised to open it up if she either a) got married or b) when she turned 40. Letter contained the deed to the house.
As Reid removes the pie to set it on the stovetop for it to cool for 15 minutes before putting into the refrigerator for three hours for pudding to set, he explains how he was simultaneously ecstatic and worried. He had already gotten in bed with the guy's daughter using her/his money to start a restaurant, now he was going to move into 'his' fully furnished house (renamed after a combination of last names and some French, Maltley Maison). One to believe in ghosts, Reid convinced himself Hank Malloy would be following him around. So much so he freaked out a bit when Gretchen put her father's ash-filled urn on the top of their refrigerator. Spooked him, but Gretchen refused to move it as 'ghosts only follow those who believe they are out to get them.'
Mitch was not feeling any empathy whatsoever with Reid. Reid, to Mitch, was causing his own troubles by either being naïve or creating crazy where there was no crazy around. Creating crazy. Appropriate. Reid, throughout the story, makes comments about his father never being home, going to tournaments and being a member of the Bowling Hall of Fame. However, an FBI job being what it is, Mitch had to move a verbose Reid along with his story in order to get to what he was there for in the first place: finding out what, if anything, Reid knew about the discovered charred hand.
Reid would rather not talk about his former father-in-law returning. He stalls, but finally relents. William DeLongpre couldn't stand Reid being able to bounce back from what DeLongpre thought for sure would keep him down for a long time, if not the rest of Reid's life. DeLongpre decides to not only toy with Reid, but to start up a new venture in Key West, an alleged family fun center with a bowling alley. He has purposely stepped right into the path of Reid's emotionally unstable friend, Bowling Bill.
Bowling Bill's lust for a bowling alley in Key West has lead him to try and gain financing from all sources, including the Gutter Triplets. No luck, logic had him go to the cradle of bowling, St. Louis, where dwells the Bowling Hall of Fame. He sends out letters of inquiry to all business leaders, including William DeLongpre. DeLongpre, back in Key West, hassles Reid by telling him of his plans, his alleged partnership with the Gutter Triplets, all the while mentally abusing Bowling Bill and the Old Man. Old Man, Reid's foundation of logic and pragmatism, doesn't care much. Bill however, not one to handle adversity, disappears before Tropical Storm Ernesto hits the Keys.
Tropical Storm Ernesto did not turn into a hurricane. It had threatened to get its wind speed high enough to create the perfect eye, very similar to what Reid was currently doing as he whipped up fresh cream with a little sugar to make whipped cream for pie's decoration. However, landfall in Cuba thwarted its attempts. Pissed, the tropical storm created a stall over Key West. Reid and Gretchen protected the house while others on the key erred in plywood attachment. Pieces flew like hard versions of magic carpet, ripping, skidding and loitering on Duval Street. Two pieces took a thermal into Tiki Lounge. One, according to Mitch, took a flyer into a transformer. Transformer blew, sparked and started a fire. Kristy saw the explosion from her apartment and was able to connect with Reid via cell phone just enough to tell him two words: fire… fight.
Mitch watched pensively as Reid took out the refrigerated pie, filled a pastry bag full of whipped cream and set about decorating the edge. As he did he began to explain to Jeff what he was doing and the difference between fluting a crust and decorating it – fluting with graham cracker in a springform pan is nearly impossible. Mitch, not enthralled, pushed Reid to move along. When did he leave and what happened at Tiki Lounge and Linner?
Reid took a half hour convincing Gretchen he had to go. Winds had subsided a bit, bur not enough for him to prevent being blasted by wind and rain. Had to go the back route as Duval was too blocked with debris. Once he got there, their little gate was locked. Before he had a chance to jump it, he was attacked by one of the Gutter Triplets. He fought him off only to hear two screams coming from inside of Tiki Lounge by the pool table area where all the tables and chairs had been stacked. He smelled smoke, hopped over the gate, and turned the corner. Armed with an aluminum baseball bat provided by Gretchen prior to his exit from Maltley Maison, he slugged a bloody someone in the gut.
Someone was another Gutter Triplet. However, it was not his blood. Reid, hearing sirens and not willing to hang around and chance his own arrest, dragged the second member of the Gutter Triplets to the back alley. He stacked him with his brother in crime and went home.
Mitch seemed satisfied with Reid's version. Confessing to the assault, Reid watched as Mitch asked about Gerty and baseball. Yes she was going to play and yes she would need a bat. Agents have the aluminum bat, had it fingerprinted and Reid's DNA was all over it.
As the birthday party begins, Mitch told Reid William DeLongpre was set to put his preferred location, where Margaritaville sits, in flames that night when luck had the transformer blow as he passed Tiki Lounge. Thinking he was going to be able to kill the proverbial two birds with one stone, he went into Tiki Lounge to fan the flames. But, Gutter Triplets were in the area. They spied DeLongpre, who had threatened them to stay out of his way. Not taking the threat well, they follow him into Tiki Lounge. Fight ensued, knives were drawn.
Reid still thought it was Bowling Bill's hand. Bowling Bill had not been found… until the party. He shows up unannounced, malnourished, ragged but with two hands to celebrate Gerty's birthday. Fed agents tell him they'll talk to him later and explain to Reid, William DeLongpre is still at large… sans a right hand. His DNA was found from scream number two when he apparently stuck his forearm into flames to staunch the flow of blood.
Fire was coincidence, fueled and started by Tropical Storm Ernesto. Reid is innocent of everything but the assault, but there will be no charges. Gutter Triplets have to answer to the assault on DeLongpre. Pie is served after Reid uses the final match from an old book of matches with Tiki Lounge in it given to him by Gretchen the first night her met her. Hopeless, dorky softhearted romantic.
Mystery is over. Reid has settled, ridding his mind of ghostly thoughts haunting him from his father or Gretchen's. However, will William DeLongpre the Second return before FBI agents catch up to him? Are they truly rid of him and his ex-wife Cherise?