Cross Country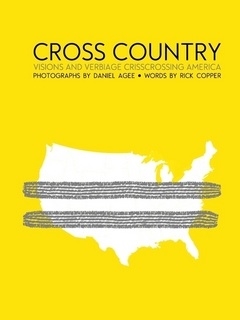 Cross Country: Visions and Verbiage Crisscrossing America
SYNOPSIS: (read, like, seriously consider a purchase from Lulu in hardcover or ebook - it's a great coffee table book)
This is a series of short stories based upon photos provided by the late Daniel Agee (he's not dead, he's just rarely on time with anything). I have put up a couple mini-synopsis' of a couple of the stories for you. Peruse away.
Candy Crock
Some teenager jobs pay better than others.
Mindy was 17 and locked out of her father's wallet. She found a job as a cashier in a family-owned candy shop, Around The Corner Candy. It had old-time candy, an abundant selection of holiday taffy, and a seriously overindulgent collection of horse figurines.
Hannah, a mean plump woman, ran the store. Her husband Fritz bought the place with lottery winnings and called his wife "hammah." Hannah created holiday taffy, but had created inedible black taffy for Halloween.
Mindy worked Saturdays solo. Hannah would merely come in to check on the day's total and help close. This particular Saturday was slow. An old man came in to check out some retro candy. A ruse, it was a boy disguised to rob the place.
Was sixty bucks really worth it? She asked this kid, Chuck (he still had his work uniform on his name sewn on it), why here? Mindy, smarter, toyed with him, finally taking his suspiciously light gun that shot only water.
Hannah came in. Chuck tied her up, but thought he killed Hannah when he stuffed two handfuls of black taffy into her mouth. He freaked out and Mindy took over just as Fritz unexpectedly arrived. He tried to subdue Chuck but failed. Mindy, too smart to be fooled, thought it odd. Fritz confessed. It was practical joke gone awry. Now Mindy couldn't work there, but Fritz made sure she didn't have to work for a few years.
Clinic Lady
Cleaning one's house often means more than wiping down floors and vacuuming.
Blake is an artist. He's able to live off of his paintings, which is good as he's been incapable of painting anything for quite some time. His assistant, Magda, fills out his paperwork and takes care of general accounting.
He won't clean. Doesn't have any desire. He has had a succession of cleaning ladies. Blake has zero tolerance for anyone not willing to bend to his will.
A new one has arrived. Dorata had left a note barely described as passable English. Blake hires her to clean once a week. After a few months, he cuts her hours down to once every two weeks. Dorata, while cleaning, asks questions – too many and too personal. He's a single man, but has photos of a woman and little girl.
Dorata moves a precious handmade unused mug one too many times. He fires her. An argument ensues. Dorata's English skill dramatically improves as Blake gets angrier. Magda shows up as Blake locks Dorata out of the house. Dorata talks to Blake through the door. Concern has come from someone who cares a lot about Blake and is Dorata's sister. Magda had hired Dorata, a psychiatrist, to help Blake overcome the death of his wife and daughter.
Blake flees, Magda follows. At the Golden Gate Bridge Magda watches him. Blake drops a blank canvas into the bay right before breaking down.